July Lunar Eclipse 2018 - July Total Lunar Eclipse is the longest for the next century
Towards the end of July, the Moon will pass straight through Earth's shadow, producing a total lunar eclipse for parts of the world, and due to a quirk of physics, it will be the longest eclipse in a century!
July 27, 2018 is going to be a fairly busy night for astronomers and skywatchers.
Big, bright Mars, along with the Mini Thunder Moon, on July 27. Still-bright Saturn will be visible off to the southwest. Credit: Stellarium/Scott Sutherland
The July Full Moon - known as the 'Full Thunder Moon', due to the thunder storms often encountered during this month of the year, or 'Full Buck Moon', as this is the time of year when male deer begin to regrow their antlers - will be accompanied by a very bright Mars, which will be up all night long, as Earth, Mars and the Sun line up perfectly in an alignment known as Opposition.
World Most Expensive Currency: 10 Most Expensive Currency In The World
By
James Marsh
This is the
current list dated June-July 2018
 and is ranked per their value against US Dollar. Most valuable currency doesn't necessarily mean that the currency is better investment option or that it represents a better economic health of a nation. Please find below the list of expensive currency in their order of expensiveness:
1. Kuwaiti Dinar
(
1 KWD= 

3.30

USD)
In an area slightly smaller than New Jersey, lies the home of the world's most valuable currency. Kuwait has been involved in talks this year with five other Gulf Arab monarchies to form a single currency. The Kuwait currency is currently pegged to the dollar.

Hong Kong's Top 10 Best Budget Shopping Places
To many Asian ladies, a mention of Hong Kong fashion makes their eyes twinkle. For centuries, Hong Kong has been a fashion icon. The city lives up to its reputation even now.
On offer are the latest designs of local and international brands. The variety is huge. The fashion malls are countless. And most importantly, prices are varied.
Budget-conscious travelers can find good deals at street markets, wholesale malls and factory outlets. Anything that Hong Kong is famous for, such as fashion clothes, accessories and antiques, is covered at these wallet-friendly shopping places.
Don't forget to give your wardrobe a face-lift by adding in a few new items from renowned Hong Kong brands like Bossini, G2000, Giordano, Baleno and Bess.
Continue reading our list of top 10 budget shopping places in Hong Kong to know where to hunt for something cool. If you have only a minute to read, then scan through the Highlights below to get the overview picture quickly.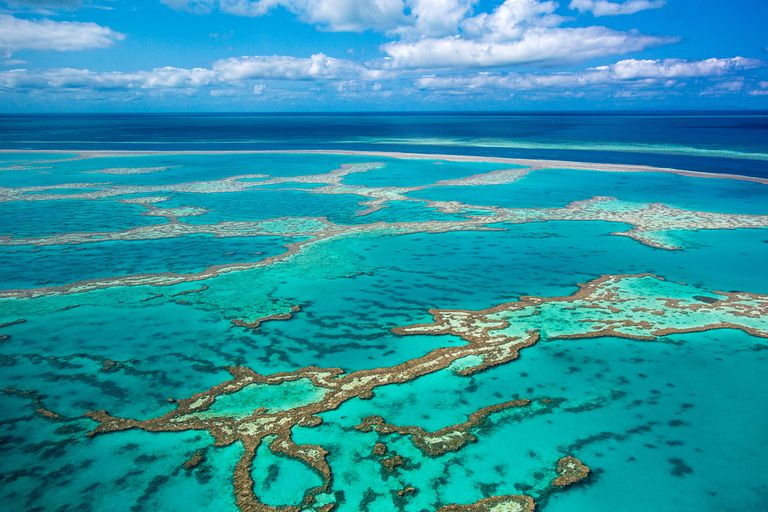 The World's Largest Coral Reefs - The Earth's Ten Largest Coral Reefs
A coral reef is a submerged structure made up of many different corals, or small marine invertebrates. These corals are unable to move and cluster with other corals to form colonies. These colonies then secrete calcium carbonate that causes them to bind together to form the reef. Each of these individual animals is also covered with a hard exoskeleton which makes coral reefs appear very strong and rock-like.
Coral reefs vary in size, type, and location around the world but they are very sensitive to water properties like temperature and chemical composition. Nearly all of the world's coral reefs, particularly the largest reefs, are in the tropics.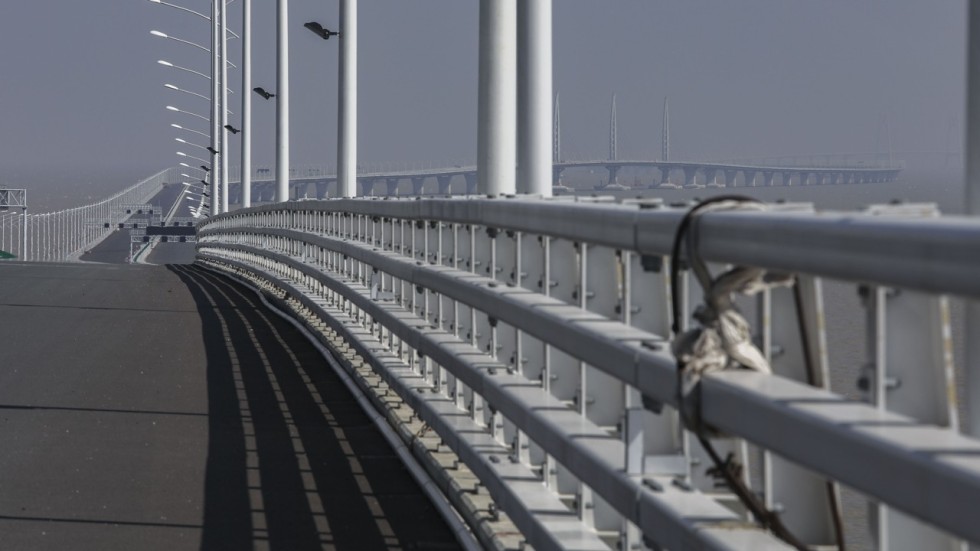 Hong Kong-Zhuhai-Macau bridge
- Officially opened on 1 January'2018. Longest ever Sea Bridge in the World with 65 KM. Connecting Hong Kong to Macau and Zhuhai in China.
First traffic to cross Hong Kong-Zhuhai-Macau bridge in 2018, according to Chief Secretary Matthew Cheung. Bridge was originally scheduled to open in 2016 but construction of Hong Kong section was delayed.
World's Smallest Ocean - Geography of the World's Oceans
An ocean is a large body of water that is saline. Oceans are a major component of the Earth's hydrosphere and cover 71% of the Earth's surface. Although the oceans of the Earth are all connected and are truly one "World Ocean," most often the world is divided into five different oceans.
The following list is arranged by size.
01: Pacific Ocean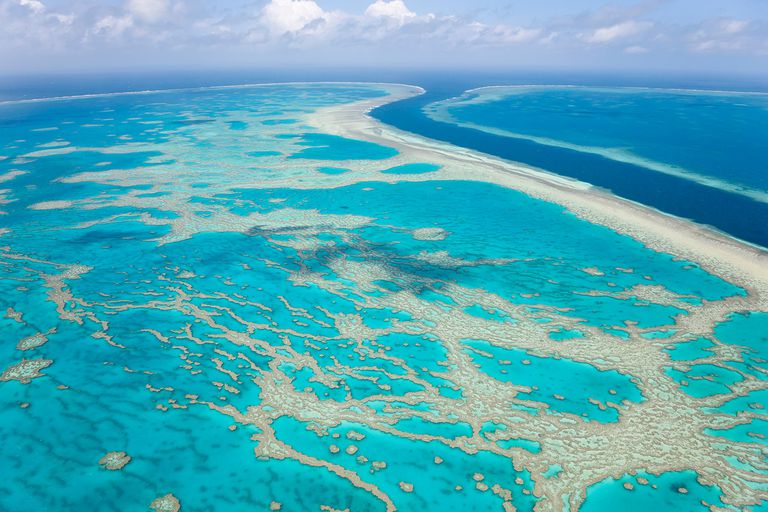 Great Barrier Reef in the Pacific Ocean. Peter Adams / Getty Images
The Pacific Ocean is by far the world's largest ocean at 60,060,700 square miles (155,557,000 sq km). According to the CIA World Factbook, it covers 28% of the Earth and is equal in size to nearly all of the land area on the Earth. The Pacific Ocean is located between the Southern Ocean, Asia and Australia and the Western Hemisphere. It has an average depth of 13,215 feet (4,028 m) but its deepest point is the Challenger Deep within Mariana Trench near Japan. This area is also the deepest point in the world at -35,840 feet (-10,924 m). The Pacific Ocean is important to geography not only because of its size but it has been a major historical route of exploration and migration.
Supercomputers - World's Top 10 Supercomputers and Countries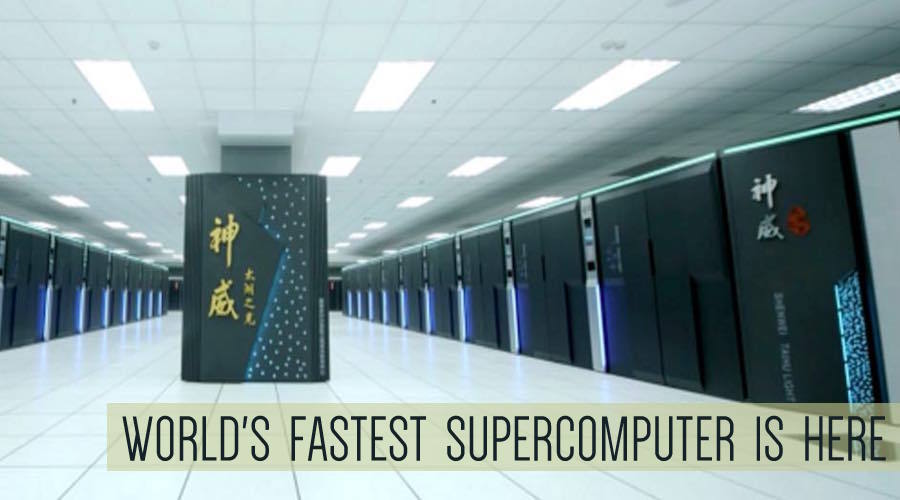 In the latest rankings, the Sunway TaihuLight, a system developed by China's National Research Center of Parallel Computer Engineering & Technology (NRCPC) and installed at the National Supercomputing Center in Wuxi, maintains its top position. With a Linpack performance of 93 petaflops, TaihuLight is far and away the most powerful number-cruncher on the planet.
Tianhe-2, (Milky Way-2), a system developed by China's National University of Defense Technology (NUDT) and deployed at the National Supercomputer Center in Guangzho, China, occupies the number two position with a Linpack mark of 33.9 petaflops.  Tianhe-2 was the number one system in the TOP500 list for three consecutive years, until TaihuLight eclipsed it in June 2016.
World's Top 10 Coldest County - List of Top 10 Coldest Countries in the World
We all can stand the searing heat, and drink lots of water to keep ourselves hydrated. Yet when it comes to the cold, there is something very mysterious about it that makes it one of the most unbearable things ever.  Keeping that in mind let us take a look at the top 10 coldest countries of the world in no particular order!
Stampedes in India: Major Stampedes in India in last 10 years
27 people, most of them elderly women, were crushed to death this morning in a stampede on the banks of the River Godavari in Andhra Pradesh, India on the first day of a major religious festival. At least 25 people were injured. India has a number of festivals that attract huge crowd. Stampedes during such festivals have become a common occurrence.
Here are the major stampedes that the country has seen in the last 10 years:
1. July 14, 2015: At least 22 pilgrims, mostly women, were killed and 20 others injured in a stampede during Godavari pushkaralu in Rajahmundry in Andhra Pradesh
World Best Airports of the future- You Can Count on them
Technology is changing fast and these modern airports are ready to give visitors a taste of what the future will be like.
1. Changi Airport, Singapore
Regularly voted best airport in the world, Changi Airport in Singapore is already impressive but when their T4 terminal opens in 2017 it will have Biometric scanning, self-service check-ins, digital boarding via mobile among many other modern features. Get ready for virtual concierges and lots more futuristic stuff.
Best 13 Stunning Biker Trails In India Everyone Must Explore
Travelling around India is in itself a very rich experience, thick with the cultures of different people and seeped in different kinds of conditions. Exploring the country's various mysteries and sights with just a powerhouse of a bike under you is a test beyond par however. It's described as being an almost spiritual experience, where you feel like you are one with everything around you. Be it under the millions of stars in Kutch or swathed in snowy Himachal, check out the best places to bike your way through India.
1. Coorg to Munnar, Karnataka to Kerala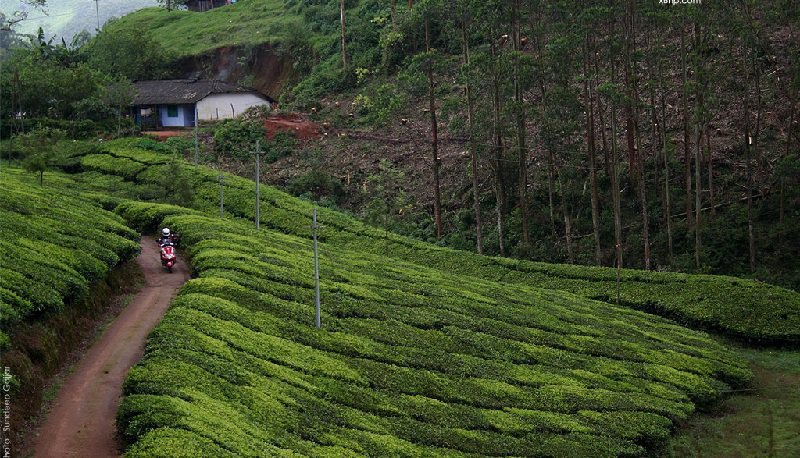 Source: Surdeep Gajjar
This route was crowned the ultimate riding wonder in 2011 with good reason. This rural region offers some of the country's most stunning landscapes as tea plantations go hand in hand with twisting green roads, forests and hills.
INDIA - Nation going down slowly because of their own Elected Representative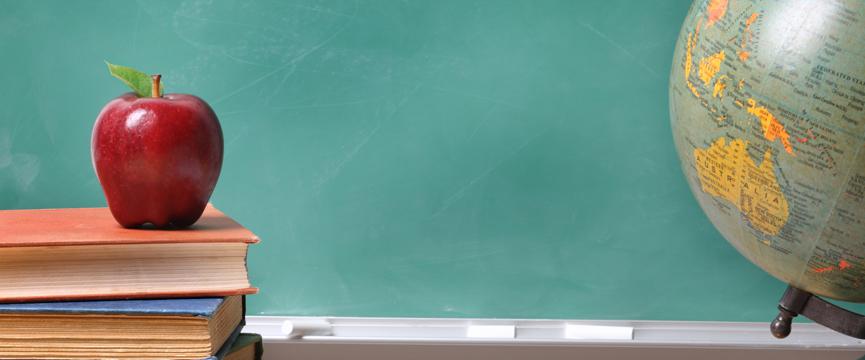 Well! there is no doubt that India is great Culturally, and we all can say that we are proud of India. But, India seems to be only Country with Pride that is slowly going downwards due to their own CORRUPT MINISTERS
Ministers or elected representative wages are tax-free and also comes with additional perquisites such as free petrol, free telephone calls and free housing. Most household expenses, furniture, electricity, water, laundry, is also paid for. They can travel anywhere in the country by train, first class, and get 34 free air tickets for themselves or a companion a year. Spouses of MPs can travel free by air from their residence to New Delhi eight times a year when Parliament is in session and unlimited number of times by train.
Each minister gets near-free electricity of 50,000 units every year. And free water as well.
The Ministers bungalow is furnished — with air conditioners, refrigerators and television sets — free of cost. Maintenance of the house — including washing of sofa covers and curtains — is done free of cost by the government.
Ministers are entitled to three phone lines and 170,000 free local calls every year.
When a Minister travels abroad officially, he is entitled to free business class air tickets. He is also paid a daily travelling allowance, which varies depending upon the country being visited.
Most medical expenses of Ministers are taken care of by the Contributory Health Service Scheme of the Union government.
Summary: Ministers are elected representative in India and enjoy full benefits in India for their salary, benefits and other prerequisites. A COMMON MAN CANNOT.
COMMON MAN SALARY TAX:
P.S: These taxes are valid only on individuals earning the salary by hard working and not by doing nothing like ministers.
Income tax is that percentage of income paid to the government by the taxpayers for the betterment of the public at large. This income is categorized into different groups on the basis of the amount of income. Each such group is known as a Tax Slab. Tax is charged at different rates on the range of income falling under different income tax slabs.
The Income Tax Act 1961 is the law that governs the provisions for our income tax.
The income tax rates are usually revised every year during the budget. Various deductions that are allowed to a taxpayer under Section 80C, Section 80D etc.
For Men below 60 Years of Age
Secondary and Higher Education Cess

Income between Rs. 2,50,001 - Rs. 500,000

5% of Income exceeding Rs. 2,50,000

Income between Rs. 500,001 - Rs. 10,00,000

20% of Income exceeding Rs. 5,00,000

Income above Rs. 10,00,000

30% of Income exceeding Rs. 10,00,000

For Women below 60 Years of Age
Secondary and Higher Education Cess

Income between Rs. 2,50,001 - Rs. 500,000

5% of Income exceeding Rs. 2,50,000

Income between Rs. 500,001 - Rs. 10,00,000

20% of Income exceeding Rs. 5,00,000

Income above Rs. 10,00,000

30% of Income exceeding Rs. 10,00,000

For Senior Citizens (Age 60 years or more but less than 80 years)
Secondary and Higher Education Cess

Income between Rs. 3,00,001 - Rs. 500,000

5% of Income exceeding Rs. 3,00,000

Income between Rs. 500,001 - Rs. 10,00,000

20% of Income exceeding Rs. 5,00,000

Income above Rs. 10,00,000

30% of Income exceeding Rs. 10,00,000

For Senior Citizens (Age 80 years or more)
Secondary and Higher Education Cess

Income between Rs. 500,001 - Rs. 10,00,000

20% of Income exceeding Rs. 5,00,000

Income above Rs. 10,00,000

30% of Income exceeding Rs. 10,00,000